MUSIC
---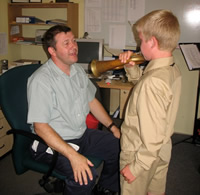 Head of Department :
Mr Stuart Scott
Permanent Staff:
Mrs T Sheard
Mrs S Clapperton
The intrinsic value of music is regarded as an integral part of our children's general education. Music is initiated from early age, Pre-Preparatory Grade R and presented in a variety of formats through to the end of, Preparatory, Grade 7.
The department has twenty-two experienced teachers, four of whom are employed on a full-time basis. Apart from the class music curriculum, individual instrumental tuition is offered on piano, voice, violin, cello, guitar, drums and most of the wind and brass instruments. Each year the Grade 3 classes also receive group tuition on violin, cello, clarinet and brass instruments. This system ensures that virtually every boy in the school has had contact with at least four different instruments. In this way, the staff can assess the individuals potential on a particular instrument.
The Brass Ensemble, Guitar Ensemble, Marimba Band, String Ensemble, Wind Band and various chamber groups provide a strong incentive to the young musician's efforts. The choral tradition is equally strong and the choral programme prepares the boys for their inclusion in the College Choir. All music pupils are encouraged to perform for the whole school at our weekly Wednesday morning concerts.

Music scholarships to the College are awarded annually. This is an open Scholarship and requires a very high standard of musicianship. Candidates are judged by an independent panel of highly qualified musicians. We are proud to say that many of our Prep boys have been awarded this Scholarship over the years. Music pupils are also involved in several external music activities. These include the Associated Board of the Royal Schools of Music examinations, the Cape Town and Afrikaans Eisteddfods and other competitions. Bishops has had, in the last few years, the largest entries for the Associated Board of the Royal Schools of Music in South Africa and has gained a reputation for obtaining excellent results.
---